When exploring your options for landscape lighting there are a number of things you need to consider. While a good landscape lighting pro will aid in the design process for your lighting system, you'll still need to have an idea of what areas of your home need lighting. And what about the type of lighting you're going to use (obviously LED lights)? At the top of the list, however, you want to build a unique landscape lighting system for your family's personality.
We've laid out a few suggestions to provide you with some inspiration as you move forward with your lighting system design. If this isn't enough, you can always follow our Pinterest where we constantly update our boards with unique landscape lighting designs.
Incorporating Lighting In Water Features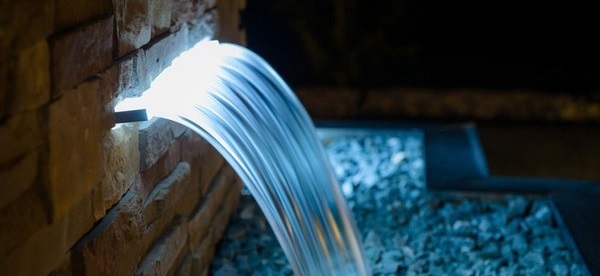 We aren't talking about plastic DIY Koi fish ponds here. Water features to us are beautifully done pieces of architecture. We also know that having a water feature is decided while you are planning the actual landscaping of your home. If you don't already have a water feature and want the added elegance of one, our good friends over at Foley Pools do a fantastic job creating incredible water features.
Now, if you do already have a water feature, using the right lighting to frame it will enhance the image and help the feature achieve its full potential for the ambiance of your home. We're not talking about throwing a spot light on the wall. Well executed lighting is in the details. For example, hardscape LED's make it easy to compliment the mouth of the waterfall. You could even change the color of the lighting to match the mood and 'temperature' of any occasion. Even strategically placed well lights like these can make all the difference.
Manipulating Light With Geometric Features
Taking advantage of lines in existing architecture is another way you can create a unique look and feel with your lighting system. In the image shown (right), the structure canvases the pathway. By utilizing the surface area of the structure this designer was able to extend the impact with a single well light. This effectively created the ideal frame for the pathway ahead.
This next example (left) uses lighting to complete what the architect designed. A single strip was used to connect the natural angles of the entry way while illuminating the entry way by refracting off the enclosure. It's a good use of minimal resources to achieve design and lighting goals.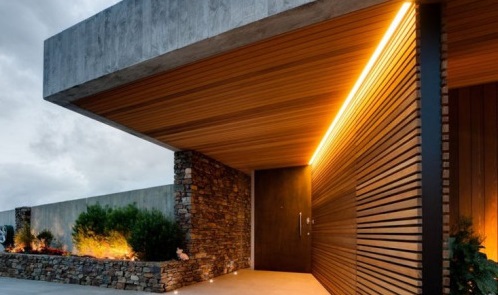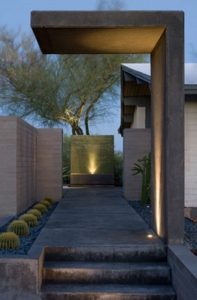 'Post'-Modern Lighting
Aside from lighting position and technique is to be mindful of the style of the actual lights themselves. Traditional landscape lights are easy spot. Their typically of brass composition and look like, well, landscape lights. There's nothing particularly exceptional about them. Path light usually appear like a conical hat resting on a pole. Well lights are nothing more than a brass circle in the ground emitting light. Your run-of-the-mill 'house-looking' box lamp. It's cut and paste.
But it's about the lighting, right? Though basic, they get the job done right? Yes, this is true. Functionality is one thing, but we're talking about stepping out of the norm and choosing your lighting system based on design and style. There are a number of contemporary designs out there you can choose from to have a unique landscape lighting system. You'll still want to shoot for something that compliments the architecture of your home, of course. With the right balance it's not hard to find the perfect design to fit your personal style goals and existing architecture.
We're fans of the 90 degree contemporary path lights, to start.
You should also check out this post style pathway light if you don't like the 90 degree one.
Or if you're feeling adventurous you could try out these tall odd-looking tear drop path lights. Talk about unique lighting…



Whether someone is simply driving by or guests are approaching the front entry for dinner, it's easy to make a clear statement about your family's personality by the ambiance you create with a unique landscape lighting system. Of course, there are enough benefits by just having a lighting system installed, but with a little bit of our guidance, a few simple style changes can have a profound impact on the statement your lighting system will make.
As always, feel free to let us know what you think in the comments below!