Article Source: Understand Solar
So you've switched out all the light bulbs in favor of LEDs and turned down the heat. Now what? Why is your home energy bill still so high?
Well, did you know the energy used in the average house is responsible for twice as many greenhouse gas emissions as the average car?
That's right, your home is an energy suck, but it doesn't have to be. Here are five very easy ways to start saving on your home energy bill that go way beyond replacing your light-bulbs with LEDs. (Bonus: many of these are extremely cost-efficient!)
1. Run an Energy Efficiency Audit
Want to know what to fix in your home? Get your home assessed by running a professional energy audit. Doing a home energy audit allows you to check up on where your house needs the most attention and which areas you can make more efficient. Professional technicians (often known as energy auditors) can act as "doctors" to your home's "checkup." This is the simplest and easiest route towards finding out potential energy vampire culprits. (Do you know how to inspect your furnace and ductwork?) That's because they'll use blower doors and infrared cameras to catch everything. And you could save up to 30 percent on your home energy bill!
That said, there are some things you can DIY prior to calling a pro. Check for drafty windows, old water heater, under the door air infiltration, overworked fridges, rusty or loose fireplace dampers, and "phantom" electronics. Also, sign up for one of the dozens of new pilot programs offered by regional utility companies to help homeowners pinpoint and control their usage with a digital energy-management system.
By the way, air sealing your home is often the #1 way to save money on home energy and represents the baseline against which all other home energy upgrades are measured. Air sealing typically pays for itself in under 5 years.
A few places where you can find an energy efficiency pro:
2. Add a Home Energy Automation System (programmable thermostat)
Over the past several years, home automation systems have really taken off. Consumer Electronics Association (CEA) found that 47 percent of online U.S. households indicate they have a programmable (42 percent) and/or smart (12 percent) thermostat currently installed in their homes. That's because this new generation of smart thermostats connect online via smartphones and tables to make programming much easier. Energy savings for digital thermostats range from about 15 to 30 percent, and popular models like Nest start at $249.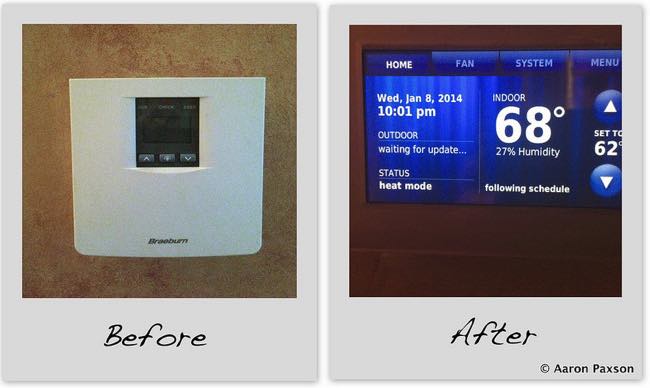 And if you're saving up for another major home improvement purchase, you're in luck. A study from Lawrence Berkley National Laboratory found that 89 percent of survey respondents never or rarely or never set their thermostat to weekday or weekend programming. Learn how to use your current thermostat, and see if you can save a few dollars until you install a home automated system that covers everything else.
Where to get a programmable thermostat:
3. Get New (Or Improved) Windows
This one, frankly, is debatable. If your windows are more than 15 years old, it's a lot less likely that they're sticking in their frames. That leads to draftiness, which leads to hot and cool air escaping through them. Hence, higher energy bills than necessary.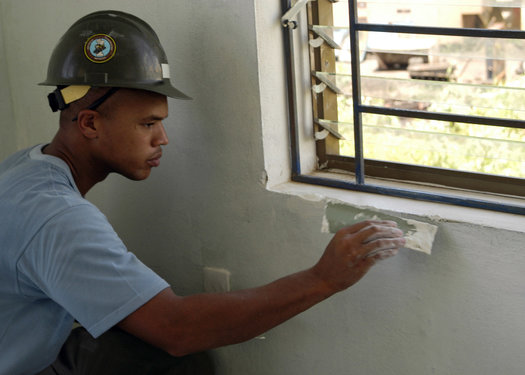 But – and this is important – if the windows are old or are no longer working as they should, new windows are necessary.
Alternately, there are tons of other, cheaper investments you can make just to your windows! Caulking is great for cracks and gaps, whereas weatherstripping is best for doors and large windows. Sealing up air leaks, repairing your windows (versus replacing them), or adding insulation or window treatments to existing windows to reduce heat loss are all energy efficient alternatives.
A few places where you can find a Windows pro:
4. Change the temperature on your water heater
Not exactly the most glamorous upgrade out there but simply re-setting the water heater temperature is likely to save you quite a bit over the course of the year.
A typical water heater is set to a temperature that it tries to maintain, which means that throughout the entire day and night the heater is constantly cycling on and off.
According to Energy.gov, lowering the temperature on your water heater can save half the energy that doing a full air seal on your home would!
More on water heating: From Energy.gov
5. Look Into a New HVAC System
Nearly half of the energy used in your home goes to heating and cooling it, according to Energy Star. That means you need to make better choices about your home's HVAC — heating, ventilating, and air conditioning — system.
One cost effective way to make sure your system is functioning at its maximum is to check your air filter monthly, especially in the winter and summer months when you're using it more frequently. If the filter looks dirty after a month, it's time to change it. You want to change the filter every three months, since a dirty filter slows down air flow and makes your system go into overdrive trying to keep you warm or cool, which of course wastes energy. Another is to hire a professional for an annual tune up of your HVAC equipment. Additionally, heating and cooling ducts need to be sealed tightly to improve efficiency. Focus on spaces like the attic, the basement, and the garage first, and use duct sealant to seal the seams.
All that considered, if your HVAC equipment is over 10 years old, or if you've done all these things and you're still too hot or cold in your house, it's time to get it evaluated by a professional. Inefficient models are costing you money. Consider replacing it with an energy efficient model that will cut your yearly energy bill by over at least $100. Boilers, furnaces, central air conditioners, and heat pumps (specifically geothermal heat pumps that use energy from the ground to heat your home) should all be labeled with Energy Star and be installed by a professional who will inspect it regularly.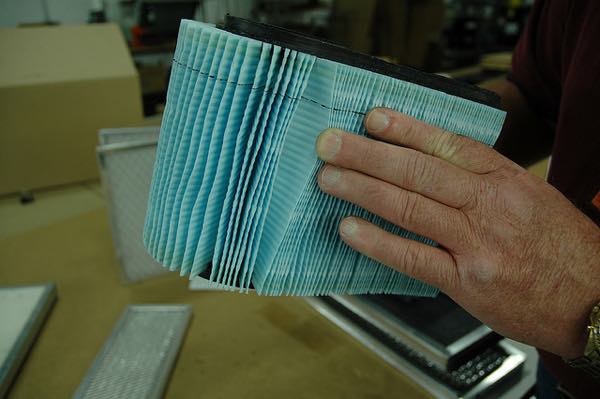 A few places where you can find an HVAC pro: