A lot of people have thought about improving their home before, but not everyone knows where to start. Today we are going to give you a few different backyard landscaping projects you can use in 2017 to improve your home's outdoor experience. You worked hard to be a home owner, don't let your backyard space go to waste!
1. Furniture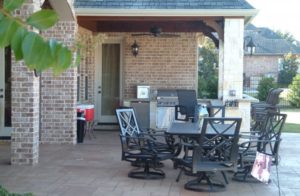 If you hope to enjoy your outdoor space, the first step is to add some comfy furniture. Quality seating is essential for entertaining guests, spending time with family, or just relaxing outdoors. There are all sorts of different types of outdoor furniture from dining sets to large sectionals. It's important to consider your needs and the limitations of your space when selecting your outdoor furniture. If you plan on hosting a lot of outdoor parties, consider a sectional. If you like to eat outdoors, try getting a nice dining set with a big umbrella to protect you from the harsh rays of the sun.
Fire Pit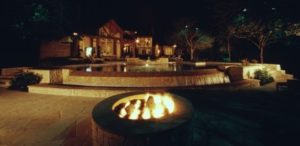 Fire pits are perfect all year long. They make a great centerpiece for gatherings and really help bring people together. You can gather around the fire pit and roast some hot dogs, make some s'mores, and so much more. Fire pits can be completely customizable to suit your style and they help keep your outdoor space enjoyable in the colder months.
Patio & Arbor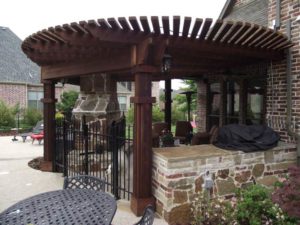 Now that you have your furniture and your fire pit, you need a nice patio. Patios provide the perfect foundation for setting up your ideal outdoor space. With the right layout, patios can be used for entertaining guests or just hanging out and relaxing. Worried about the sun? Add an arbor to help provide some shade without sacrificing style.
Outdoor Kitchen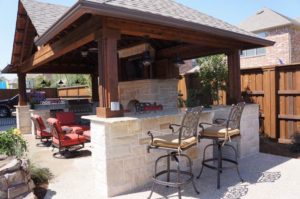 Outdoor kitchens can really help elevate any gathering you have in your backyard. It's perfect for summer BBQs, tailgating parties, and for a nice family dinner. An outdoor kitchen can be completely customized to match your needs. The most important appliance to have is a grill, without a grill you can't expect to cook much. After you get the perfect grill for you, think about adding in some prep space, a fridge, and add some shade so you don't have to cook with the sun beating down your back!
Bonus tip: install an outdoor tv so you never have to miss a second of the big game!
Landscape Lighting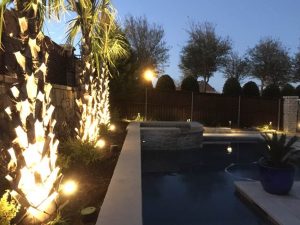 If you want to use your awesome backyard at all times of the day, landscape lighting is absolutely essential. Use different lighting fixtures and techniques to highlight your favorite areas! Path lights are perfect for lighting up a pathway or for casting pools of light in a garden. Deck lights help provide your deck with all the ambient lighting you need. Spotlights and downlights are perfect for trees, highlighting areas of your home, and for providing the lighting necessary to enjoy your outdoor space.
Stone Decking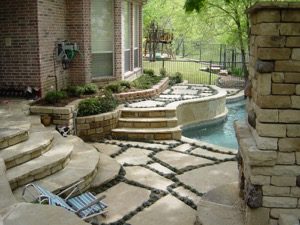 Not a fan of the patio? Give your yard a beautiful natural look with some stone decking. Not only does stone decking look incredible, it also requires much less maintenance than the traditional wooden deck. Like the patio, a deck provides a great space for entertaining and hanging out. Decks are also ideal for more uneven terrain. Patios need a flatter terrain while decks are easier to build on slopes.
Garden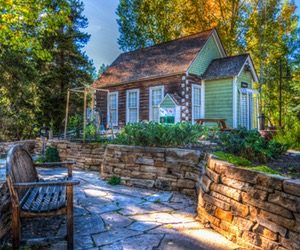 Always keep your kitchen fresh by adding a garden in your backyard. Not only is the garden functional, it's also aesthetically pleasing. Not a fan of fresh veggies? Use it to plant all of your favorite flowers and plants! Some plants can even be used to attract butterflies and hummingbirds, while others can be used to help repel pesky mosquitoes.