Of all the lighting manufacturers you want to pick the best because landscape lighting for your home is an investment. But who's the best? In this post, we'll be addressing what qualities (good materials) make certain lighting manufacturers better than others and why you should care. In order to keep it simple, we'll only be comparing spot lights.
Lighting Manufacturers Comparison List
#1. AMP Lighting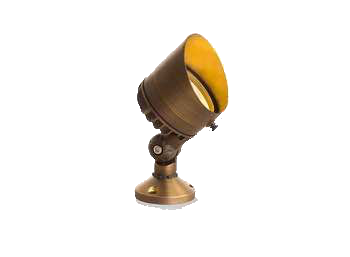 We know people usually build up to the winner, but people have short attentions spans nowadays, so here you go! When assessing the best lighting manufacturers, the best way to do it is by looking at the materials. All of AMP Lighting's lights have a cast brass finish which is the best you can hope for in an outdoor lighting solution. Their best light, called "The Blaster", has an 825 lumen range (comparable to a 75 watt bulb) and a 2700K color temperature. Color temperatures between 2700K and 3000K fall into the "warm color" category, which is perfect for landscape lighting. Of course, they have other less powerful lights too because you're probably not trying signal for batman at your home 😉
One thing to note. These lights are LED lights but all of the lights we'll be looking at are LED because there's really no other way to go. So basically when it comes to LED, if you're considering a light and it isn't LED, don't even consider it.
All of their lights come with remote controllers that allow you to adjust the brightness and you can also adjust the degree spread up to 60 degrees. To see a video of how this works check out the bottom of the Landscape Lighting Pros home page. This is a big differentiating factor for AMP since none of the other products we found enable you to adjust degree and brightness. These lights also have a water tight and puddle resistant seal, ensuring they'll last a long time in any outdoor conditions.
Now it's time for the kicker. WARRANTY! AMP lighting lights come with a lifetime warranty. That's why here at landscape lighting pros our service is a one time investment. And if you ever have any problems we'll be glad to take care of them for you!
#2. Hinkley Lighting
---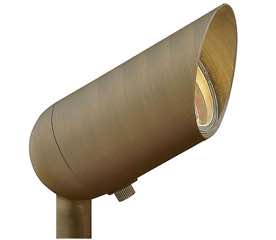 ---
Coming in at a close second is Hinkley Lighting. The Hinkley spot light has a cast brass material just like AMP so it's doing well so far. Their best light, the "40 Degree Bronze 8 Watt LED Landscape Spotlight" (whew, what a mouth full) has a 530 lumen range, comparable to a 45 watt bulb, and a 3000K color temperature. So their color temp is a little higher, but their max lumen range is significantly lower compared to AMP's.
These lights do not have adjustable brightness or degree spreads and their max degree spread is 40 degrees. It should be noted however that they do have less powerful lights with degree spreads up to 60 like AMP's lights. It isn't advertised, but these lights also seem to be water proof. Whether they are puddle resistant we are unsure, but based on the shape it is likely that they are.
What about the warranty?! Hinkley lights come with a 1 year warranty. To some this may not seem like a big deal, but some are mistaken. Lighting is an investment, but we believe it should be a one time investment.
#3. Hampton Bay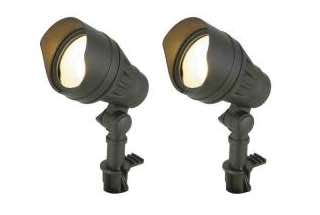 Coming in third from Home Depot, the last of our lighting manufacturers is Hampton Bay. It should be noted that just because they are last on this list does not mean they are terrible lights. We'll explain more later in the Conclusion. Hampton Bay lights come with a cast aluminum finish. Not quite as good as a cast brass finish since it won't last as long in outdoor conditions, but still not terrible. Their spotlight has a 390 lumen range with a 3000K color temperature. So they have a good color temp, but their max lumen range is a little on the low end.
Because these lights are a little on the lower end there are no specifications on degree spread or adjustability. They definitely do not come with a remote controller that can control the brightness, which can be fundamental when thinking about design. Again, based on the shape and materials present, we can assume these lights are water proof and fairly puddle resistant as well.
Surprisingly, these lights have a better warranty than Hinkley with a 5 year warranty. Not too shabby, but still can't compare to the lifetime warranty AMP Lighting offers. Now, if you're still around (thank you 🙂 ) let's address why you care about any of this stuff.
Conclusion
---
So, initially this was going to be a top 5 lighting manufacturers list but then we started making the list and realized something. If you're going to go any lower quality than these 3 companies then you are probably on the wrong website. We love landscape lighting here and we believe it is a fantastic way to improve the look of your home. But, like all good things, it's an investment! Is it expensive? Not with us! How? You only pay once! Remember, we have a lifetime warranty here at Landscape Lighting Pros. We take care of our customers here, and if you'd like to experience how, check out our Free Trial!
We'd like to thank you for taking the time to read this post.
If you enjoyed this one, check out Top 5 Benefits To Landscape Lighting For Your Home.