Having an outdoor living area can be nice, but only if you know how to make the most of your outdoor space. You want to be able to create a beautiful place that you, your family, and your friends can enjoy all year! Try to think about how you want your space to be used.
Are you trying to create a kid friendly backyard? Will you be hosting any senior guests that struggle to get around? Do you have dogs or other pets to worry about? Do you just want a relaxing place to escape to at the end of a long day?
However you decide to use your space is entirely up to you, but it's important to keep in mind your intentions for your outdoor area before you begin creating the perfect space. Here are a few tips for making the most of your outdoor living area!
Make The Most Of Every Inch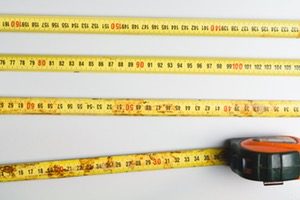 It's important to keep space in mind when trying to create the perfect outdoor living area, especially if you're limited by square footage. When buying furniture for your outdoor space, think about how much room you actually have. In smaller spaces, you might try to opt for sectionals that can be tightly placed in a corner, leaving you with more room for a table and space to move around.
It's also important to include plenty of storage options, especially for smaller spaces. There are plenty of options on the market for storage spaces. To really make the most of a small space, check out some furniture pieces that double as a storage containers!
Even if you have a larger space, it's still important to make the most of your space. Many people tend to think in terms of feet rather than inches, but by thinking small you can actually free up a ton of space! If you can, try to push your furniture or other items closer to a wall or fence. Although it is a minor change, it can actually make a big difference!
Keep Pathways In Mind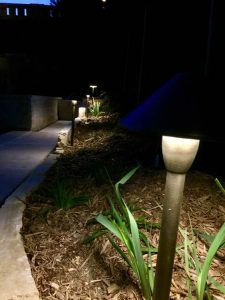 Before you start setting up your outdoor living area, keep your pathways in mind. It's best to try and keep a path about 4 ft. wide. Remember what you intend to use your space for, and create your paths accordingly. If you're trying to entertain small children or host elderly guests, it may be best to avoid winding paths.
Pathways should be kept clear at all times. This will ensure the safety of you and your guests. It's also important that pathways are illuminated at night, both in your front yard and backyard. Not only will path lights provide a warm welcome to guests and guide them to your door, it will also help keep them safe from tripping at night.
Outdoor Kitchen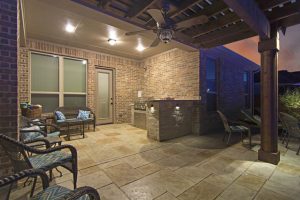 If you have the space, consider upgrading from a simple grill to a beautiful outdoor kitchen, equipped with a grill, prep space, and a refrigerator. An outdoor kitchen can even help you increase the quality of the food you grill when the sun goes down. With some hardscape lights, you can easily see when your food is grilled to perfection. Stainless steel appliances are perfect for enduring the changing of the seasons, meaning you'll have an investment that you can enjoy for many years. To really make the most of an outdoor kitchen, consider installing an outdoor television, visible to both the chef and the guests. This will really help take your Super Bowl party to the next level!
Get A Fire Pit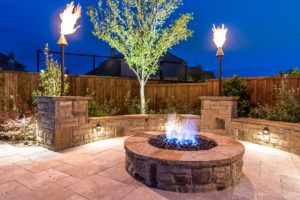 What's the best way to enjoy the outdoors all year round? A fire pit. Installing a fire pit in your outdoor space provides an easy transition into those cold winter nights. Fire pits are perfect for either a romantic night with that special someone, or for spending time with all of your closest friends. It provides a perfect place for you to eat the food you just made in your outdoor kitchen. Children also love fire pits because that means they have easy access for s'mores!
Add A Custom Pool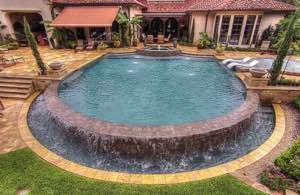 Pools are the perfect way to stay cool on a hot summer day. It's also perfect for exercising, entertaining children, and relaxing. Pools can easily become a defining feature for your outdoor space. Customized pools allow you to create the perfect pool that fits your design and entertainment needs. If you love to tan, it's easy to create a shallow ledge that's perfect for laying out on sweltering summer days.
This also makes a perfect place for dogs and small children to enjoy the water as well! You can also include a rock face waterfall to completely transform your space. With the help of some spotlights, you can create the perfect ambiance by illuminating your waterfall and the rest of your pool.
Check out our friends at Foley Pools by clicking the image above for some help with your custom pool needs!
Gardens & Foliage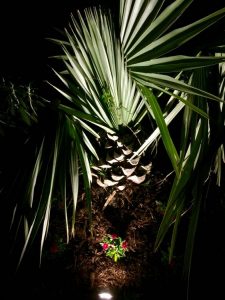 Gardens can easily transform any outdoor space! Plant some shrubs or flower beds in your front yard to increase your curb appeal, or add some foliage in your backyard to create a beautiful aesthetic. Different plants can completely transform your outdoor spaces. For a tropical feel, try planting some palm trees and hibiscus flowers around your pool. Some plants can even attract some pretty visitors.
Flowers such as the daylily, marigold, or goldenrod can help attract butterflies. To attract hummingbirds, try planting bee balms, daylilies, petunias, or even try installing a hummingbird feeder. You can also utilize plants to repel pesky bugs, like mosquitoes. Try using lavender or citronella to repel mosquitoes!
Bonus: lavender will not only help repel mosquitos, but it will also help attract butterflies.
If you don't want to plant those, try adding some citronella torches to help repel mosquitos while simultaneously creating a beautiful aesthetic. You can use path lights and spotlights to highlight certain plants and flowers at night, or you can try downlights in the trees to create a beautiful moonlight effect. With landscape lighting, you can enjoy your gardens day and night.
Install Professional Landscape Lighting
To truly make the most of your outdoor space you need to be able to use it at all hours of the day. It's always nice to sit outside and enjoy the sunshine, but when the sun sets and the night grows darker, there's no reason you shouldn't get to sit outside and enjoy the night.
With professional landscape lighting, you can enjoy your outdoor space all night long, even while you're still indoors! Install some spotlights to highlight certain features of your home, or try adding some deck lights to create a romantic ambiance for a date night at home. Downlights are also perfect for illuminating a deck or patio, as well as creating a moonlight effect when aimed towards a tree's foliage.
Both path lights and step lights help increase the safety of your home and guide your guests where you want them to go. Path lights also help bring your gardens to life at night by casting pools of light, highlighting your favorite plants. Landscape lighting shouldn't be limited to your backyard, you can use it in your front yard to increase curb appeal and provide a warm welcome for your guests!
That's all for today! Remember, it's easier than you think to get started on utilizing your outdoor space with our Free 3 Day Trial! You'll get to see how much better your home can look before you pay for anything 🙂